Zara have been designing some of the best handbags in their recent collection. The Mini Office City bag does not fall short of my favourite bags from them ever, and its a great alternative for high end bags without the hefty $$$ sign. If you're a fan of the original Zara office city bag, which has been a huge hit from the brand, then you'll probably be familiar with the style and shape of the bag.
I love the style of this bag. The straps that come with the bag are big plus, as you have the option to wear the handbag as a crossbody and over the shoulder, or on your arm as you wish.
The bag comes in both navy (pictured above) and burgandy: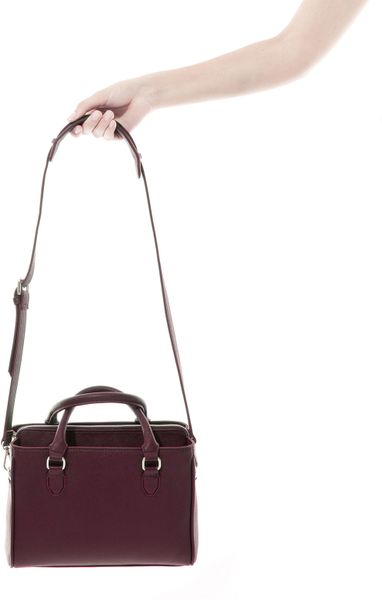 The mini office city is
literally
a compressed version of the original office city bag. The original bag has been extremely popular, but the mini version seems more appealing to me. The original office city bag looks like this:
I've been on the fence of purchasing the original office city bag ever since it first came out, because it was just too large for me. Although it is completely efficent and useful at carrying a lot of things, I felt that the bag would get too heavy for me and that I wouldn't wear on it a regular basis. One thing I do believe it is good for is if you're carrying laptops or electronics on a daily basis, that this bag will hold it all and you'll look stylish at the same time.
One thing I do really like about both the original office city bag and the mini version, is the compartments within the bag. Many times than not, I always end up loosing half the items I put in my bag and they never find their way out. I love the look of the interior of these bags and think its a great way to keep your stuff organized and the inside well maintained.
Want another plus side to the bag? It retails for £29.99. Find it
here
:)
What do you think of the mini office city bag from Zara?